Description
Product Description
You can hear music in a new with the inbuilt feature of Live Sound Mode. It gives an amazing sound experience
In-built DSP technology lets you send your music to a wider area. You can create a festival vibe wherever you are
You can connect up to 100 wireless speakers with Bluetooth technology
Control the music with the Sony music center app. Select playlist/songs/tracks/cue to the next song and sound modes
It is totally washable and dustproof with an Ip67 rating
You can charge your smartphone by connecting it to the speaker whenever you are low on battery
Product features
The Sony XB41 Bluetooth speaker gives your party the ultimate three dimensional music experience. This is possible with the extra bass and live sound mode. It takes your party to a different level with multi-colored flashing lights. These lights sync up with the beats. It features a built-in grip which makes it easier to hold. You can tap your speaker at different places to produce different sounds for example a scratch, snare, kick drum and cowbell. You can control the volume with your touch.
Give it a good hit for a loud output and tap it gently for a soft sound. Connect up to 100 Sony wireless speakers with Bluetooth technology. Change sound modes and lighting patterns with Sony SRS XB41 speaker. Also, you can control the party from the dance floor itself. Sony Music Center app allows you to select your favourite tracks.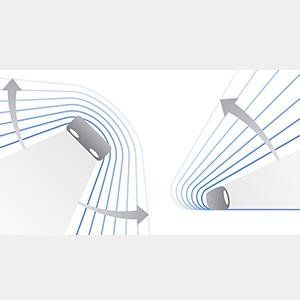 Live Sound Mode
Listen to your music in a different way with the LIVE SOUND mode. Make your party alive with the three dimensional music experience. It creates festival vibes everywhere it goes. The speakers are designed with much care to give you the 3D feel. The speakers are angled with the new DSP technology which sends music to a broader range.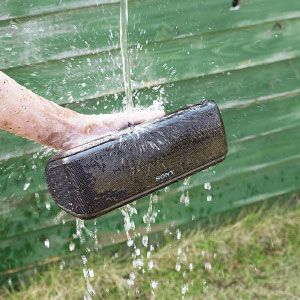 Rustproof and Waterproof
Your SRS-XB41 is IP67 rated. This makes the device totally dustproof, rustproof, and waterproof. Beach and pool parties are no more a thing to worry about. Drop your speaker in the sea, splash water on it or take it out in the rain without any worries. The fabric made in Japan is of high quality, which makes it washable. Take it to the beach, forest, desert or any place in the world, it will keep on playing.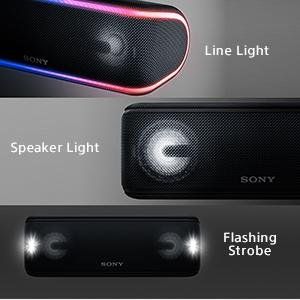 Flashing Lights
A party isn?t fun without the party lights. New line lights of Sony XB41 portable speaker go around the speaker and sync with the beats and rhythm of the track being played. It also features a Speaker light. So, now amplify your music with a speaker light that syncs with the favorite party anthems. It also has a flashing strobe to add the ultimate feel to your party.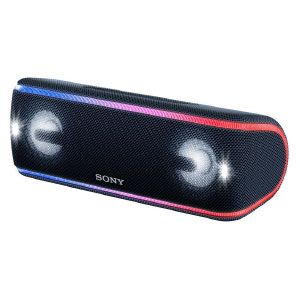 Mica-reinforced Speaker
The device has been structured with Mica Reinforced Cellular (MRC). It has a rigid and lightweight speaker cone. This is coupled with a large displacement space. Now don?t worry about losing sound quality. These features complement each other. They work together to deliver sound and boost the driving power.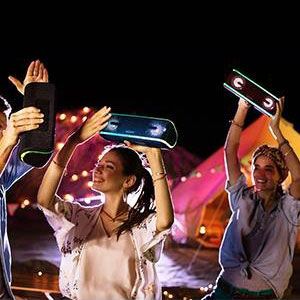 Extra Bass
Play every beat with extra emphasis. SRS-XB41 Bluetooth speaker adds that extra boost and oomph to your party. All thanks to EXTRA BASS. The 58mm dual speaker units, that means a powerful bass and sound.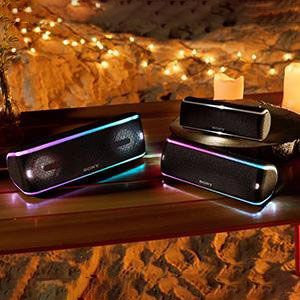 Wireless Party Chain
If it is a huge party and you need really loud music, then Wireless Party Chain is your call. You can connect up to 100 speakers with the help of Bluetooth technology. So, everyone now can dance to the same track and same beats.
IN THE BOX
Sales Package
1 Unit wireless speaker
GENERAL
Brand
Sony
Model
SRS-XB 41
Color
Black
Type
Wireless speaker
FEATURES

Speaker Type

Full Range

Speaker Size

58 Mm

Sound Modes

Live Sound, Extra Bass, Standard

Speaker Size

58 Mm

Nfc

Yes

Hands-Free Function

Yes
Version 4.2

Max. Communication Range

30 M
Compatible Profiles

A2Dp / Avrcp / Hsp / Hfp / Spp

Supported Codecs
Sbc / Aac / Ldac

Frequency Transmission Range

20 Hz?20,000 Hz (44.1 Khz Sampling)

Input And Output Terminals

Stereo Mini Jack (In), Usb A Terminal (Dc Out Only), Micro Usb (Dc In)

Frequency Range

2.4 Ghz Band

Battery Life

24 Hrs (Standard Mode / Lighting Off)

Water Protection
Ip67
DIMENSIONS
Weight

1,500 g

Package Dimensions

291 mm x 104 mm x 105 mm
WARRANTY
Warranty Type
Manufacturer Limited
Warranty Period
1 Year Warranty