Description
Product Description
Two 140mm fan for super cooling
Two additional USB ports for external USB devices
Slim and portable design
Speed controller to control fan speed manually
Product Highlights
If you are fed up with up the heating issue of your laptop then, WINDPAL FS cooling pad is the perfect solution for you. Two 140 mm cooling fans give strong power and keep your laptop cool. The cooling fans produce almost zero noise even you can adjust the fan speed with speed control button. The slim and portable design gives the cooling pad an everlasting classic look. The anti-slip design of this Deepcool laptop cooling pad protects your laptop from falling.
Windpal FS cooling pad gives you the freedom to control the fan speed so that you can make balance between noise and cooling performance. This cooling pad best suites to laptops of size up to 17 inch including 14 and 15.6 inch laptops. So, If you are looking to buy cooling pad for 15.6 inch laptops then deepcool windpal fs cooling pad is one of the best option for you. It is very flexible therefore it can be used at different angles as per your convenient.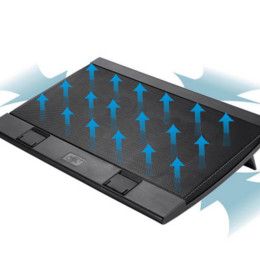 Fast cooling with two fan
One of the premier features of this cooling pad is two 140 mm fans entitled in it, which keeps your laptop super cool and gives strong power and staring appearance.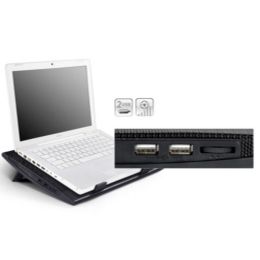 Manual control of fan speed and Extra USB ports
It has two USB ports and comes handy when you need external USB devices also you can balance between noise and cooling performance with the help of fan speed control button.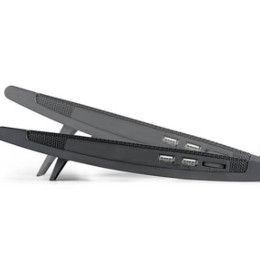 Two using angles
This laptop cooling pad has two different using angles, you may select according to your feeling of ergonomics and comfort.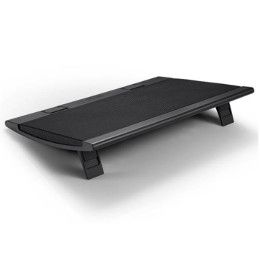 Base in type of arc
The arc type base helps the Deepcool cooling pad get better space for air flow and give it an attractive appearance.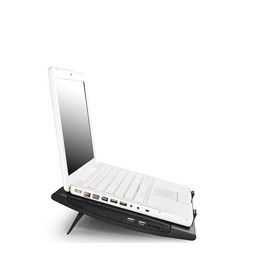 Anti-slip design
It has small folded feet at the bottom of the panel which are stucked with soft silica gel pad. The feets stop the notebook from slipping off and also protect the edges of the notebook from any scratches.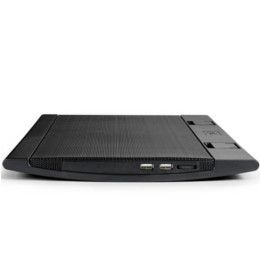 Slim and portable design
Its black appearance makes an everlasting classic design and the slim design is portable enough to take it along wherever you go. It is compatible with all size laptops including 14 inch, 15 inch and all sizes upto 17 inch Laptops.
IN THE BOX
Sales Package
DEEPCOOL NOTEBOOK COOLER
GENERAL
Brand
Deepcool
Model
WINDPAL FS
Type
Cooling fan
Color
Black
Interface
USB
FEATURES
Power Source
powered by usb cable
Compatibility
with 17″ notebooks and below
Nos. of fans
2
Fan Size
144mm
Body Type
Metal Mesh front Panel and plastic
Nos of USB ports
2
Bearing Type
Hydro Bearing
Safety Mechnisms
Anti-slip buckle to protect your notebook
TECHNICAL SPECIFICATIONS
Rated Voltage
5VDC
Operating Voltage
4.5?5VDC
Started Voltage
4VDC
Rated Current
0.19+/-10%~0.32+/-10%A
Power Input
0.95~1.6W
Fan Speed
700+/-150~1200 +/-10%RPM
Max. Air Flow
115CFM
Noise
21.5~26.5dB(A)
DIMENSIONS
Overall Dimension
382X262X24mm
Fan Dimension
140X140X15mm
Net Weight
793g
WARRANTY
warranty type
manufacturer limited
Warranty period
1 Year